3D Printing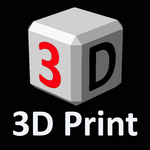 What 3D Services do we offer?
Our 3D print service, which includes design, printing and sale of standard 3D products, is provided through our subsidiary, 3D Print Caribbean, which has a great 3D printing website with more information, but here are the basics.
What is 3D printing?
3D printing is a technology where a computer model of an object is made into a physical object. Computer modelling in three dimensions (3D) has been around for many years and it's getting easier and cheaper to design your own model as computers have become more powerful. The development of 3D printers is more recent and there are now several types of 3D print technology, but the recent explosion of interest has come about because of the advances in a process called Fused Deposition Modelling, or FDM.
3D printing and FDM printers in particular have come a long way and it's now a quick and reliable way to get physical parts exactly how and when you need them. The benefits include:
Quickly turn your ideas into reality.
3D design & printing is an excellent educational tool
Print stuff you can't get in shops
Keeps your ideas private
3D design and printing is fun!
You can see a few 3D Print examples that we have designed and/or 3D printed. Most of these are items can be customised and purchased from us.
How do I get a part 3D printed?
Step 1: You'll need a computer model of the part, which can come from a variety of sources.
The simplest and quickest option is to search for what you want online. There are thousands of parts that can be downloaded free from websites like thingiverse.com. There are some licencing issues, but generally once the item is for your personal use, there's no problem. Just send us a link to the item with the size you need it printed.
Or, why not try your hand at being creative? With lots of free programs available, 3D modelling is an excellent educational tool to develop artistic or engineering skills. For designers familiar with CAD modelling software such as AutoCad, it's pretty straightforward to produce models for 3D printing. Export your model as an STL file and email it to us. Let us know the size and some idea of function so we can work out the best material and print parameters.
Step 2: From what you tell us, we determine the best material and how to print each object then use 'slicing' software to convert the STL file to a production file which gives us the amout of material used and time to print. We use this to get you an estimate of the price.
Step 3: You pay a deposit, and collect your parts, usually within 48 hours.
3D Design Service
If you need a part or an assembly designed, replaced or customised, whether for 3D printing or other manufacturing methods, we can help. We have good mechanical CAD skills, lots of experience and can work with you on simple or complex projects.
3D Training and Support
If you have a 3D printer, we'd love to hear from you and build the 3D print community in the region.
If you want help with creating your own 3D designs, we can help in most cases.
If you're interested in buying a 3D printer and want advice on what to get, we can review your needs and advise options to suit your plans and your pocket. If you need training, repairs or have specific issues, we can help get you up and running with confidence.