Toner cartridges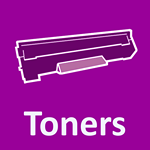 We supply Premium Quality remanufactured and compatible cartridges from a global producer, highly respected for their consistent quality. Local remanufacturing of toner cartridges is impractical due to the significant test and production programmes needed to produce quality toner cartridges.
Each cartridge is tested and comes with the maximum toner fill to give the highest page yeild possible. You will get crisp, dark print and sharp graphics every time. And our toners give the level of toner remaining, just like the original.
With a very wide range of toners several OEM brands, our range is probably the widest in Barbados. We keep all popular models in stock, and we are happy to order others. As with all Inktech products, there's a full guarantee.

Call us on (246) 421 7844 or enter your toner cartridge or model in the search box* above to get a great price!
*SEARCH TIPS:
1. To search by cartridge, enter a unique part of your cartridge code in the search box, such as "CE41" to get the full range of CE410X/A toners, but don't enter the manufacturer code (HP) as this will bring up all HP cartridges!
2. To search by printer, use the model number without the letters, so for HP Color Laserjet CM1415fnw, just enter 1415. Remember that we may not have all printer models on file - its best to search by cartridge where possible.
3. If you can't find it, call us!