Inkjet cartridges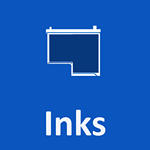 Our inkjet remanufacturing facility is located in St. James, Barbados. We collect used cartridges and return them to 'good as new' condition using processes and equipment that produce after-market cartridges to world class standard. Here's how: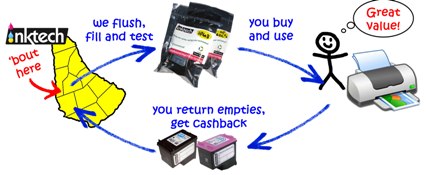 First we inspect the 'empties' received to make sure that they are good enough to process. Then they are deep cleaned to remove all residual ink before vacuum filling with a precise amount of top quality ink, using programmable, purpose-made equipment.
We test the electronics of the print nozzles and check the print quality of each cartridge. Our packaging is designed to give a long shelf life and to be reused for your empty cartridge, leaving virtually no waste behind.
The result is cartridges with 'good as new' print quality and page yields that match or exceed the original cartridge. Because we reuse cartridges, the environment benefits by keeping empty cartridges and packaging out of the trash.
We keep most inkjet cartridges in stock and ready-to-print, so you don't need to wait for a refill. If you do have an unusual cartridge that's not listed on our website, we may be able to help (we like a challenge!). Either way all Inktech products are fully guaranteed. Call us on (246) 421 7844 to find out more.